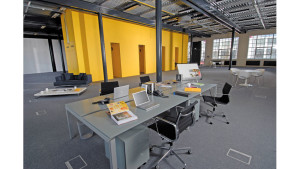 Very "slidery one might say. They were slidepay.co when we first encountered them. Who knows what before that? NOT slidepay.com since that is apparently a real company. But slidepay.co. The one registered to a person using the name Henry Gorman, ostensibly of San Jose, CA and associated with a person using the name Phillip Hindle with the same San Jose address and telephone number. Perhaps more geographically correct would be Saint Petersburg, Russia since Russian company records indicate that's where they are registered as Interminal, LLC d/b/a spacedwalk.com.
Presently the url takes one to a page called spacedwalk.com with the same address as used before when they were slidepay.co. A person using the name Phillip Hindle claims to be a founder of spacedwalk as does a person using the name Salman Sharrief.
Slidepay.co and persons using the above names are alleged to having processed transactions via an unidentified bank and not paying the merchant. Interestingly, they claim to work with "victims of Lamada" to help them collect their payouts.
Our question is: Could this be the "Fake Processing" that we've been hearing about? If so, acquirers should be especially vigilant in the selection of their ISO s considering all the hacked card info that's out there to be "processed."