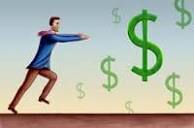 Chasing the bucks can be costly.
February 7, 2017. The Attorney General's Office and the Federal Trade Commission, resolved allegations that the defendant debt relief companies targeted individuals deeply in debt with promises of lower credit card payments and substantial savings and collected upfront fees for the promised services, but never delivered on those services or provided refunds. As a result, consumers fell even deeper into debt.
The payment processors included in the court's orders are CardReady LLC and its executives, Brandon A. Becker, James F. Berland and Andrew S. Padnick.
The court orders require a payment of more than $4 million and the relinquishment of property as follows:
Card Ready, LLC, Brandon A. Becker and James F. Berland must pay $1.8 million;

Matthew Thomas must pay $10,000 and turn over various pieces of jewelry;

Steven D. Short and Karissa L. Dyar must turnover money held in numerous bank accounts;

Andrew Padnick must pay almost $6,000;

Christopher Miles must pay $6,600 and transfer certain bank accounts;

Jason Gagnon must transfer a vehicle; and

Kenneth Sallies must pay more than $2.5 million.
From http://www.myfloridalegal.com/newsrel.nsf/newsreleases/A2D9DDE246FD78A8852580C000726376