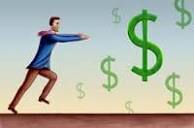 I thought so. Just one post ago. And here's a whole gaggle of scammers who keep hanging around. Just last week the FTC made the final order for judgments on a case from 2013 that cost acquirers millions in chargebacks. Some in the conspiracy had past criminal activities that should have barred a merchant account. And that's not even counting the eleven year murder rap one of them took. That could happen to anybody.
No, its fraud against processors we're concerned about.
And you underwriters can "bank" on it we will see this list of scammers again. They even continued their fraudulent activities AFTER the FTC had issued them the preliminary Injunction Order.
"The various judgments and settlements impose a ban on selling business or work-at-home opportunities on Lukeroy K. Rose, Leary Darling, Solana DePaola, Lance Himes, Cordell Bess, Cynthia Miller, Clinton Rackley, and Richard Frost, and 10 corporate defendants: Money Now Funding LLC, Rose Marketing LLC, DePaola Marketing LLC, Affiliate Marketing Group LLC, Affinity Technologies LLC, Global Network Marketing LLC, Precise Payroll Services LLC, Strategic Media Advertising LLC, Legal Doxs LLC, and US Doc Assist LLC. Some defendants are also banned from telemarketing. In addition, the judgments and settlements include provisions that apply specifically to certain defendants, prohibiting them from engaging in the types of misconduct alleged by the FTC."