Consumer Fraud For Dummies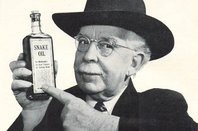 It helps if you can utilize any two of the following:
1. Expect that someone is going to give you a free gift.
2. Believe that you have been specially selected for a unique opportunity.
3. Think that the word "guaranteed" means that you are protected.
4. Hope that you can work from home doing menial tasks.
5. Assume that other people want to help you solve your financial problems.
6. Trust unknown people with your credit card or bank information.
7. Anticipate great wealth without investment, training or effort.
8. Accept the statements of any telephone salesperson as true.
9. Imagine that you can change your life via an on-line promotion.
10. Feel that no similar solution has ever been available to you.
ACT QUICKLY AND SIGN UP FOR
1. Loan Modifications
2. Government Grants
3. Work At Home
4. Weight Loss
5. Discount Clubs
6. Credit Repair
7. Multi-Level Marketing
8. Investment Training/Wealth Building
9. Email Chain Letters
10.Vacation Prizes
If you combine any selection from the first ten list with any selection from the second ten list, WE GUARANTEE THAT YOU WILL GET NOTHING FOR YOUR SOMETHING!
And this doesn't even include other "fraud for dummies" chapters like the Nigerian Letters and lottery winnings!